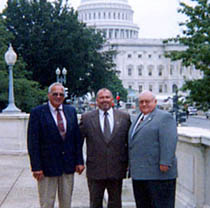 Ken Jantz, Commissioner,
Port of Walla Walla
Greg Tompkins, Commissioner,
Walla Walla County
Jerry Cummins, Mayor,
City of Walla Walla
Walla Walla Delegation
Travels to Washington, DC

In September, a three-member delegation from Walla Walla met with key legislators in Washington, D.C., to thank them for the 2003 appropriation of $4.4 million and to discuss prospects for additional funding in 2004. Ken Jantz, Greg Tompkins and Jerry Cummins met with Senator Patty Murray, Congressman George Nethercutt and Senator Maria Cantwell.

NEWS UPDATE: The 2004 appropriation bill includes $4-million for U.S. Highway 12. Thank you Senators Murray and Cantwell and Congressman Nethercutt.